33 Storyboard Artists And Illustrators You Should Be Following On Instagram
updated: 8/11/2022
Storyboarding is an art, a mix of drawing and illustration, that tells a story. It is an essential part of cartooning and animation, a skill that all illustrators should have for their trade. However, combining these things to create an elaborate story told by one or many characters is more challenging than people assume.
Being a storyboard artist demands lots of planning and learning how to use visuals to tell a story. Therefore, having such a skill is a must for any comic artist or animator. Furthermore, it is the knowledge you should try to hone to excel in this craft.
You can learn the art of storyboarding by observing those who have mastered the skill, which we discovered is possible through Instagram. Below is our top choice of storyboard artist on Instagram, whose work can be a source of inspiration. In addition, you can follow to get tips and ideas you can practice on your boards during your spare time.
Charles Ratteray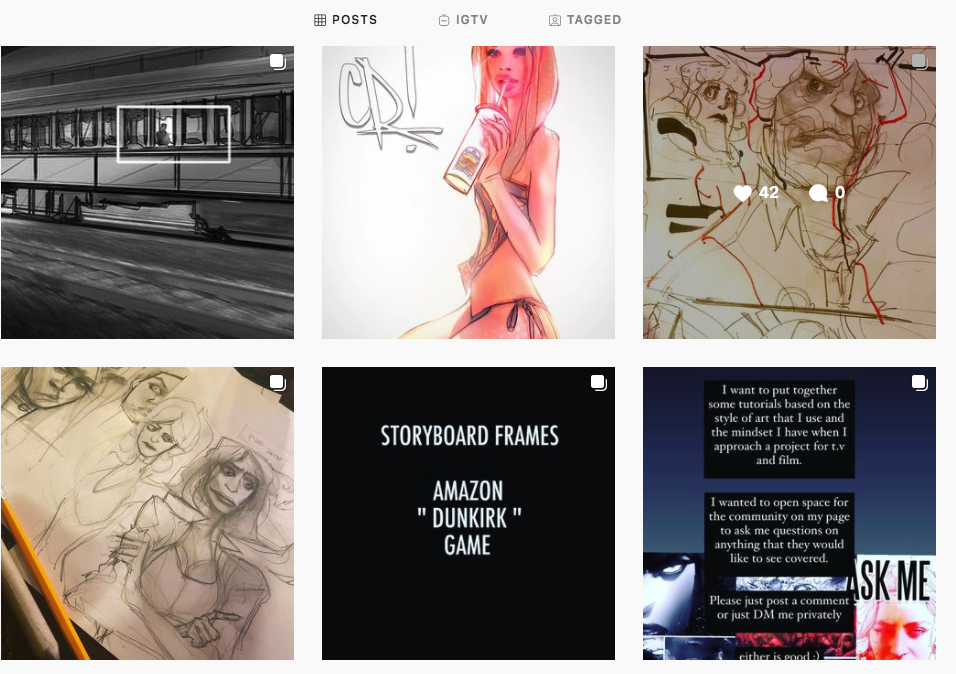 LA-based Charles Ratterary, a storyboard artist and concept designer, also works as an illustrator in the T.V. and Film industries. He as film credits for productions like The Chronicles of Riddick, CHIPS, Captain America, and T.M.N.T. (Teenage Mutant Ninja Turtles. Ratterary also has T.V. credits for shows such as True Blood, Breaking Bad, and F.X's Louie. Charles Ratteray also has credits for many video games (such as Assassin's Creed), commercials, and music videos.
Ratterary is one of the storyboard artists with a high demand attributed to his artistic vision and graphic style. He happily shares his thoughts on the changing storyboard industry, touching on the past, present, and future.
Almu Redondo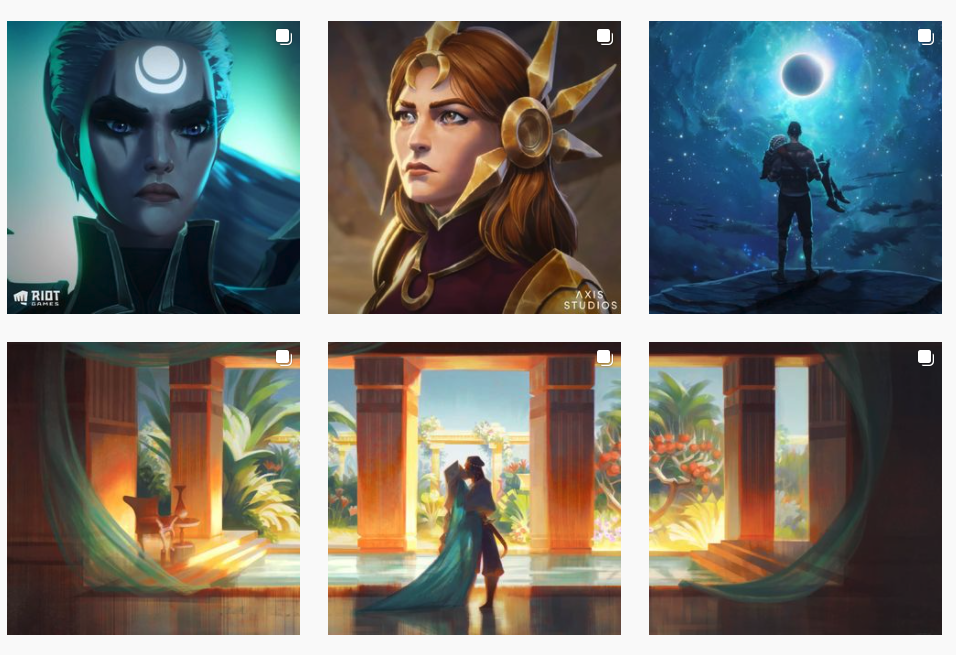 Almu has a broad drawing and sketching style, with styles that include character renderings, ethereal landscape illustrations, and fanciful digital paintings. She also has meticulous ink drawings of environments and architecture with elaborate detailing that you will get lost in as you get amazed by her mood-setting color choices. Almu Redondo is a classical illustrator storyboard artist that shows off her skills masterfully.
Amelia Lorenz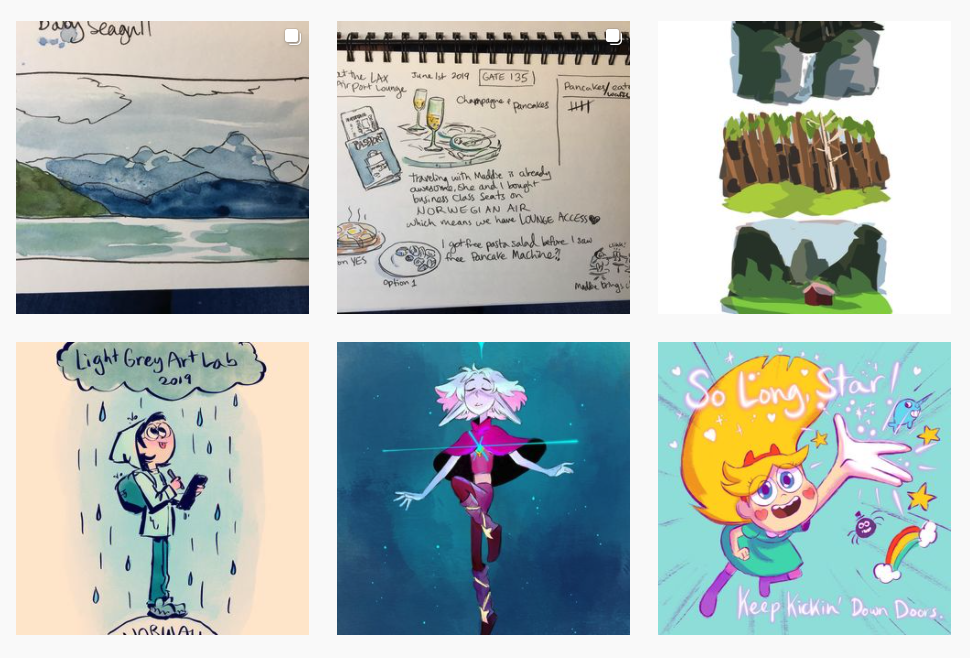 Storyboard artist, Amelia Lorenz, works for Disney. She has a feed that is a vibrant mix of comics, storyboards, life updates, doodles, and character sketches. On her Instagram account, you will find finished digital works and basic ink sketches that can help you better understand her process and style.
Scrolling through Amelia Lorenz's account, you soon discover her style is diverse and is evident in her character sketches and coloring techniques. But aside from the need to learn new things in storyboarding, you also might find Amelia's work to be funny comics and beautiful art.
Butch Hartman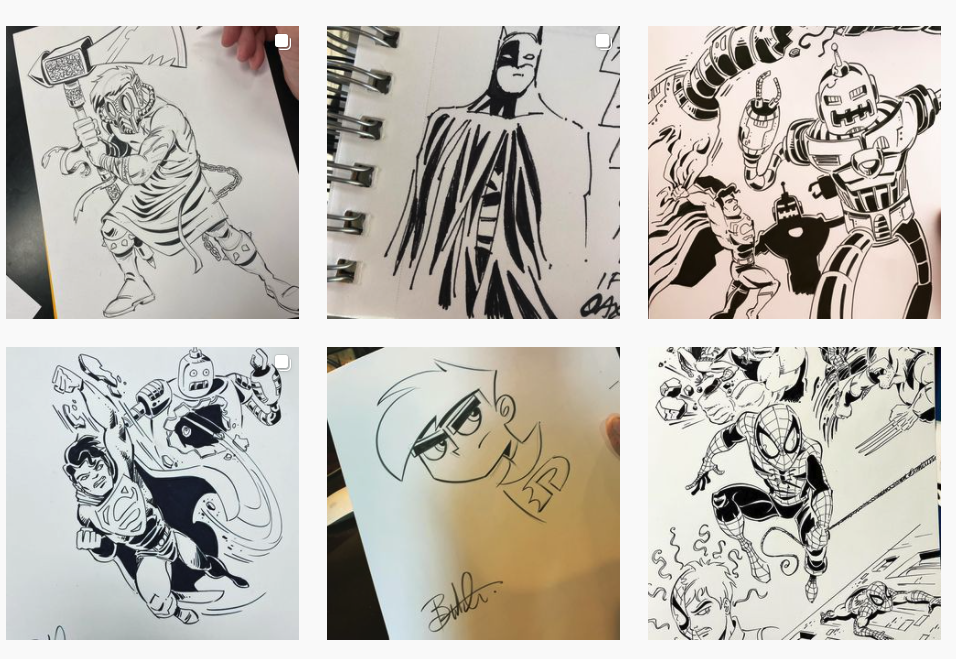 YouTuber, animator, and illustrator Butch Hartman is also a voice actor famed for Nicktoons' The Fairly OddParents, a show in which he was the executive producer during its 16-year run. He also is known for creating, Puppy and Bunsen Is a Beast, Danny Phantom, and T.U.F.F. Butch Hartman owns Billionfold Inc., a production company that is his production hub for his shows.
Kent Osborne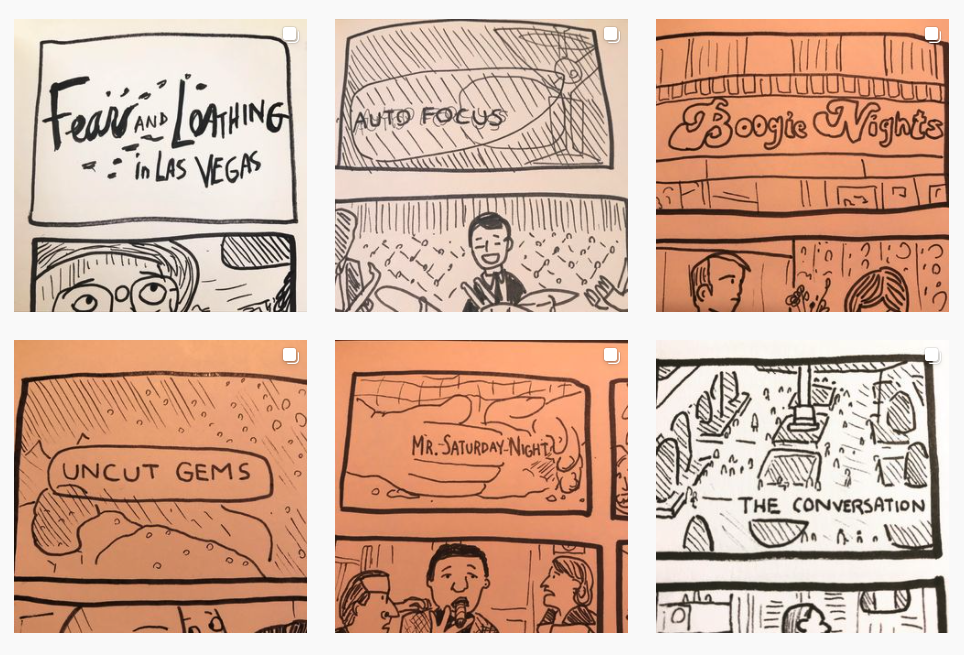 Besides being a storyboard artist, Kent Osborne is a writer, director, actor, producer, and lyricist. He is known for his creative contribution to the SpongeBob SquarePants movie and series. Some of his storyboarding has been seen in The Marvelous Misadventures of Flapjack and Regular Show. Kent has written for Camp Lazlo and voiced characters in Kung Fu Panda and Monsters vs Aliens.
Kent Osborne directed Swedish Blueballs and an episode on Shorty McShort's Shorts. His production stints include Uncle Kent and Worst in Show. He works on T.B.S. in 1998 as a host on the Movie Lounge show in which he hosted and chatted with movie celebrities include famous puppets.
Chris Sanders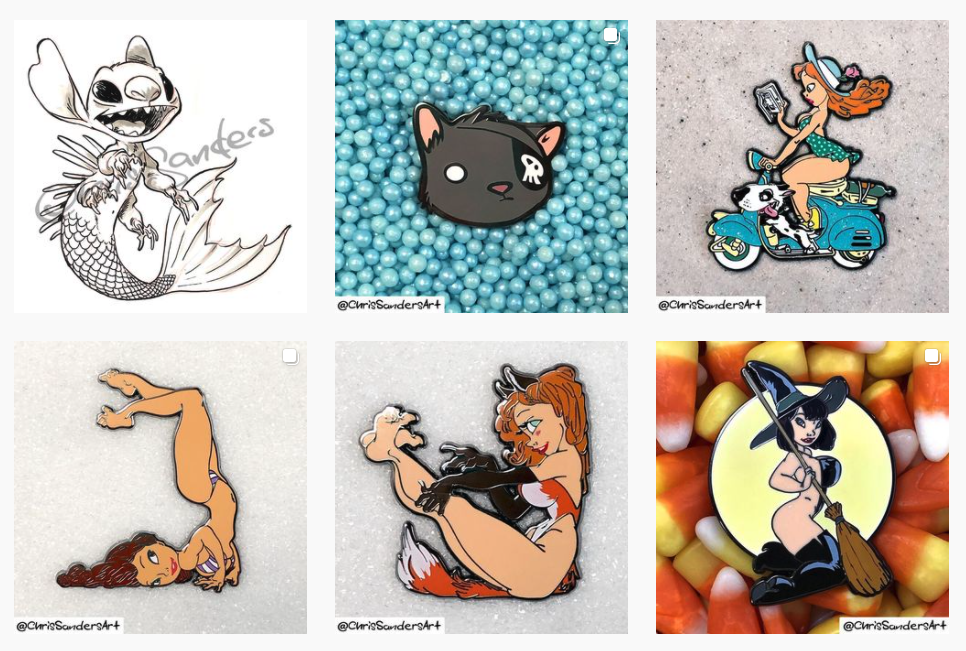 American animation film director, producer, and screenwriter, Christ Sanders is also known as a voice actor, illustrator, and animation director. Some of his famous works include Disney's 2002 Amination Lilo & Stitch, in which he was featured as a co-writer, creator, and voice actor, voicing Stitch's character. Chris Sanders also voices the Western produced works in its franchise. He also is known for co-writing Dreamwork's 2010 hit animation movie How to Train Your Dragon. Chris co-directed the two films with Dean DeBlois.
Wes Louie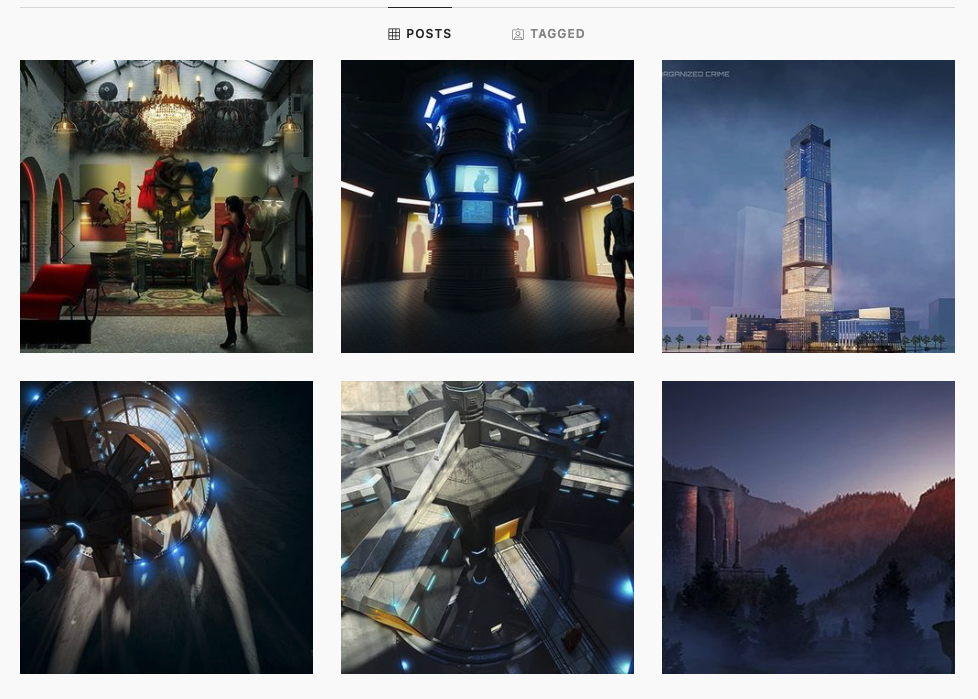 Wes Louie is a professional artist in the entertainment industry who currently works as an illustrator at HBO Max. Born and raised in Los Angeles, CA, Wes attended The Art Center College of Design, where he received his Bachelor's degree in illustration with honors before moving to New York City. When not working from home or on set for film projects around NYC, you can find him collaborating with clients all over the globe.
Jordan Koch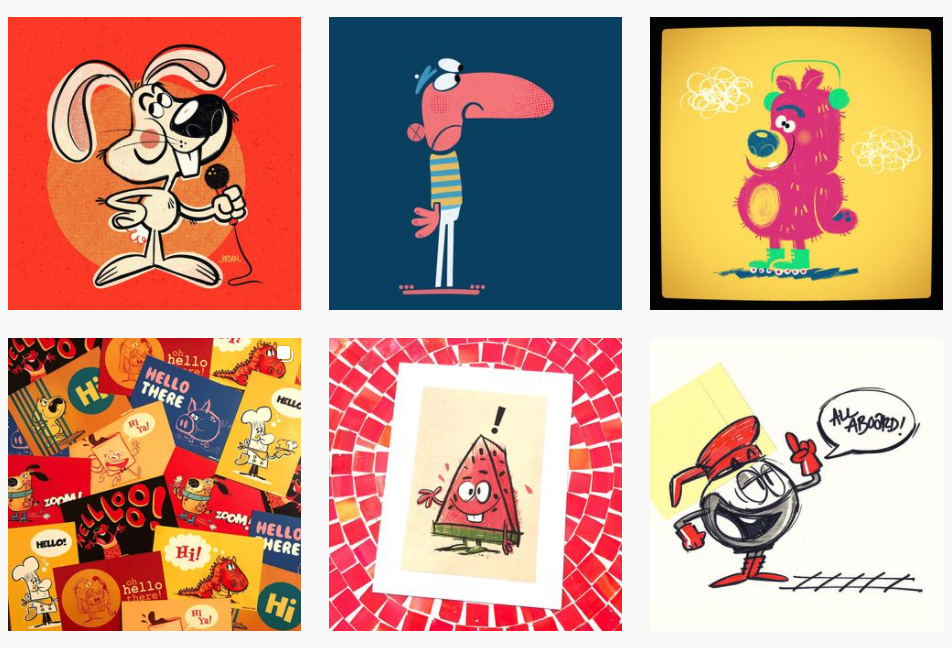 Storyboard artist Jordan Koch works with Nickelodeon, which probably why you might find his style a bit familiar. Some of his works that you will come across on Instagram include quick sketches, occasional napkin doodles, storyboards, digital rendering, and comics. Jordan's Instagram is full of inspiration for cartoon fans and novice storyboard artists. You can find coasters, books, and prints featuring Jordan Koch's work when you visit his Etsy shop.
Robert Kalafut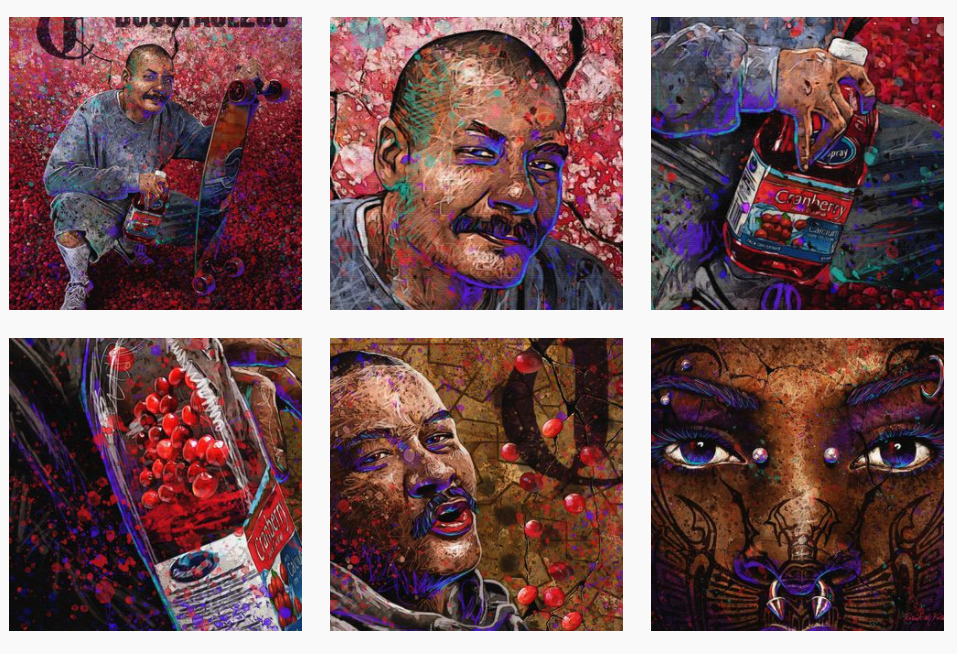 LA-based Robert M. Kalafut is a West coast artist whose work includes abstract portraits. He has experience in the film and advertising industries, toy design, Local 800, and animation.
Caroline Director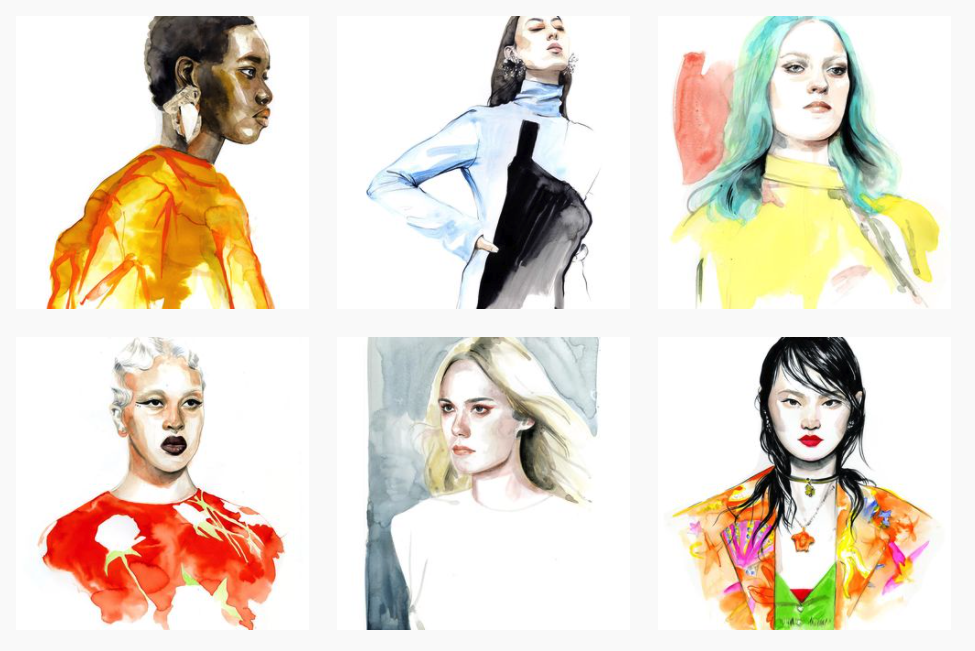 Caroline storyboarding has been featured in productions like SpongeBob SquarePants and Looney Tunes, which is why you will come across a lot of SpongeBob sketches. Check her out on Instagram if you are a SpongeBob fan. Caroline posts storyboards, short comic strips, original illustrations, and character designs for various cartoon shows. Her work also includes finished digital renderings and lots of sketchbook drawings. From what she posts, it is evident that Caroline Director's storyboarding contains lots of art done in various formats from which you can learn a thing or two.
Alex Lanier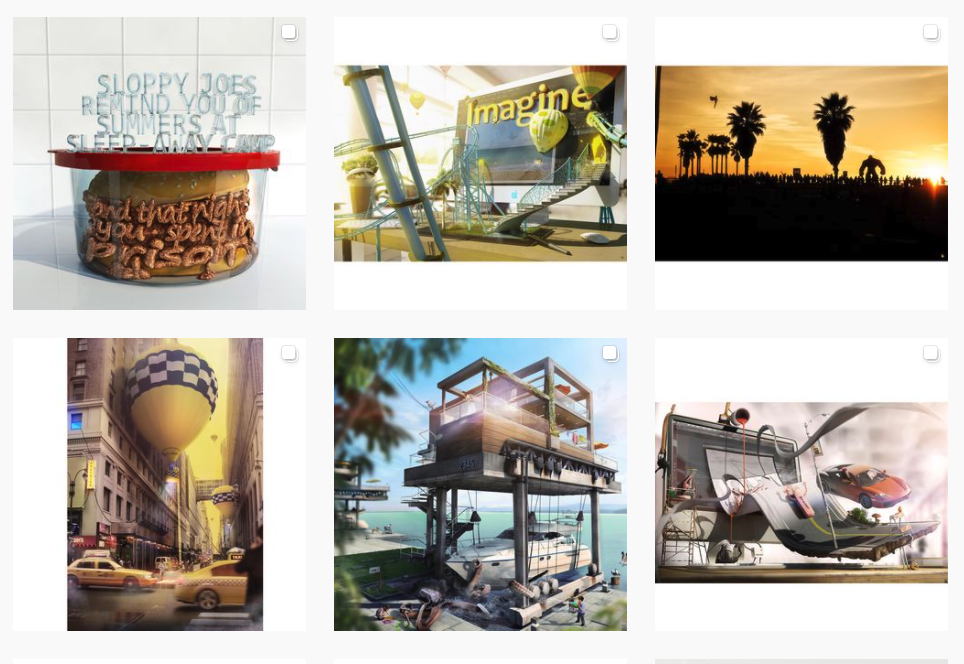 Self-taught artist Alex Lanier, who also is an F.I.U. School of Architecture graduate, has a background in illustration, concept art, and storyboards. He has more than 15 years as a professional artist and has been featured in publications such as 3D Arts Magazine, Wacom, Pantone Canvas, Advanced Photoshop Magazine, Inspirato, and Photoshop Creative.
Alex has attracted different clients globally in the entertainment, advertising, and architectural industries. He had worked for top art collectors, studios, and agencies with pieces ranging from photography, 3D modeling, and digital painting that exude some creative flexibility. Alex Lanier's work is based on a style that shows anything is possible, pushing the boundaries of visual innovation, imagination, and storytelling.
David Larks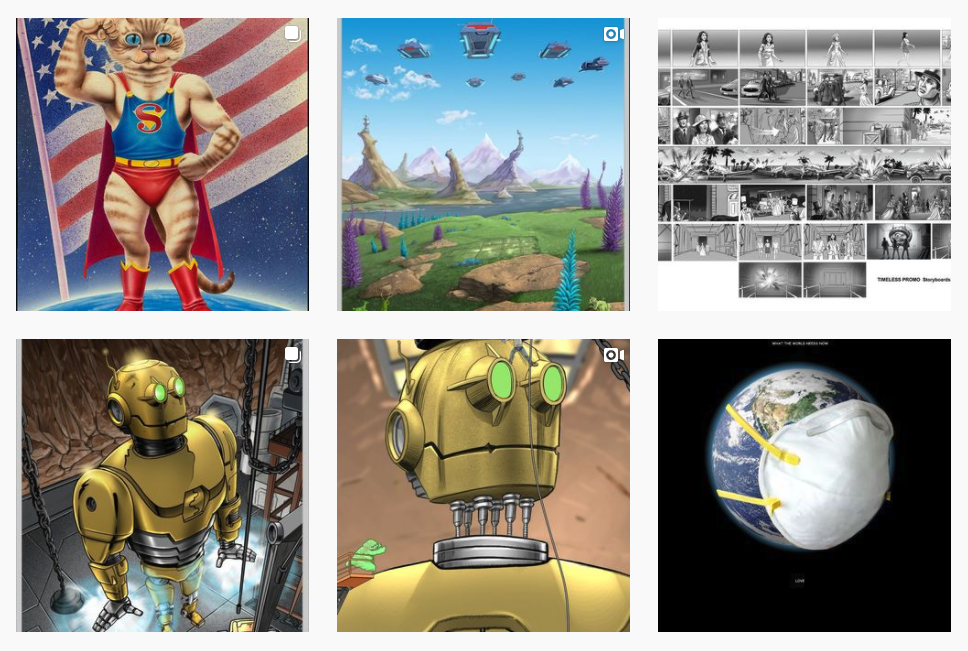 David has been an illustrator and storyboarding artist for the last 16 years and has majored in print comp key art. Currently, he is represented by famous frames New York and Los Angeles, where he is the Senior Illustrator Commercials for Art Directors Guild. David Larks also works with Local 800.
Aliki Theofilopoulos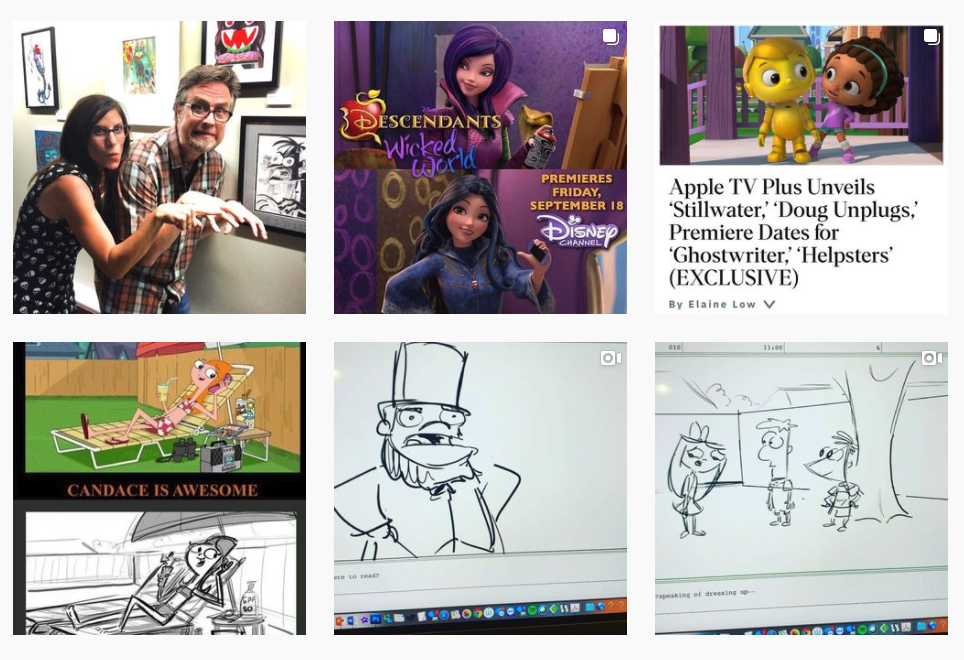 Storyboard artist and Primetime Emmy nominated writer Aliki Theofilopoulos is known for her contribution as Director and Executive Producer on Disney's Descendants Wicked World. She is a member of Women in Animation and an Emmy nominated songwriter for Disney's Phineas and Ferb. Her career began when she landed a feature animation gig in 1995, creating for Disney films such as Treasure Planet, Hercules, and Tarzan. Aliki later moved into T.V. product as a story artist, director, writer, and executive producer.
Aliki Theofilopoulos received an Annecy nomination for Disney's award-winning Mickey Mouse shorts. Her professional credits also include Warner Brother's Johnny Test and Nickelodeon's ChalkZone. Aliki directed Doctor Lollipop, for which she received an Annecy nomination. She developed Nickelodeon's Girls on the Go and Frederator's Yaki and Yumi.
Aliki recently worked on DreamWorks T.V.'s Harvey Street Kids as the Supervising Producer, streaming on Netflix. She now also holds a co-executive producer role in the new T.B.A. pre-school production. She has various original projects in the pipeline for Amazon and Disney TV Animation. Aliki Theofilopoulos traveled to Greece, where she was a guest speaker at TEDx.
Alex Chiu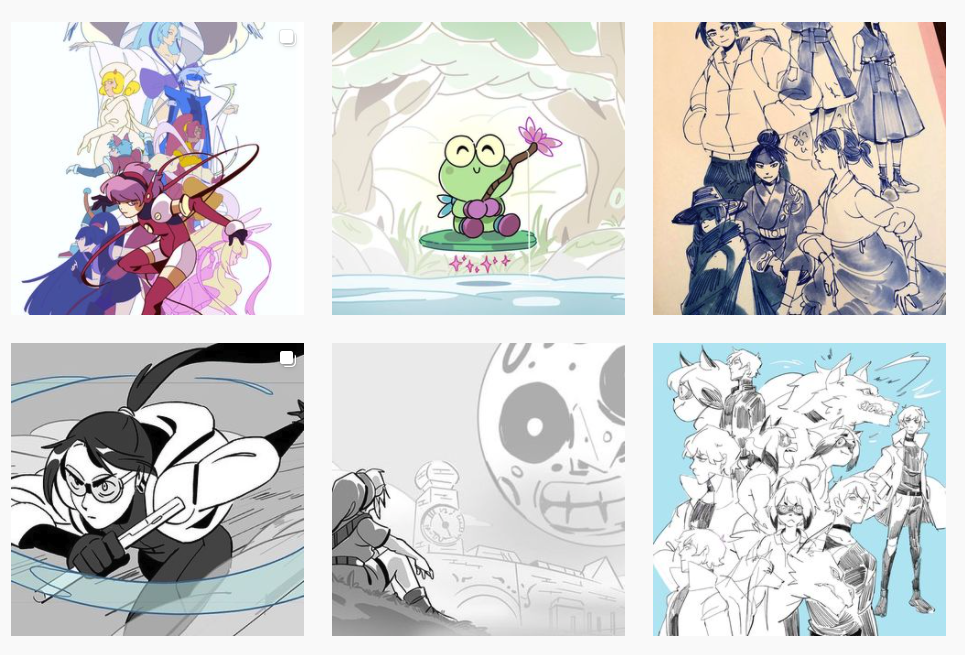 Storyboard artist, Alex Chiu, has worked for Marvel and Nickelodeon, creating incredible works. She also developer her original character sketches that include hand-drawn ink art. She posses impressive illustration skills and has a unique knack for drawing female characters with exquisite feminine movement and facial expressions.
Ryan Agustin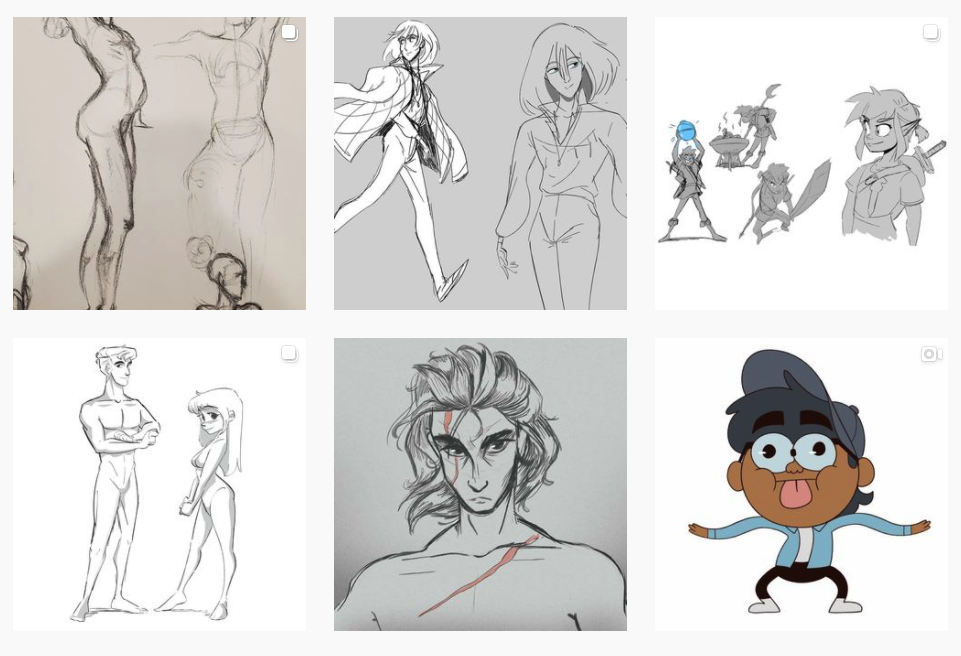 Animator and storyboard artist, Ryan Agustin, is known for his knack to beautifully capture everyday life moments and showcasing them as art, which you can find on his Instagram. He has included original characters and sketches unique to his style that is reminiscent of modern Disney films but exudes some attitude.
You will also find various characters from famous cartoons and original drawings, quick sketchbook drawings, and conventional family portraits.
Tim Shinn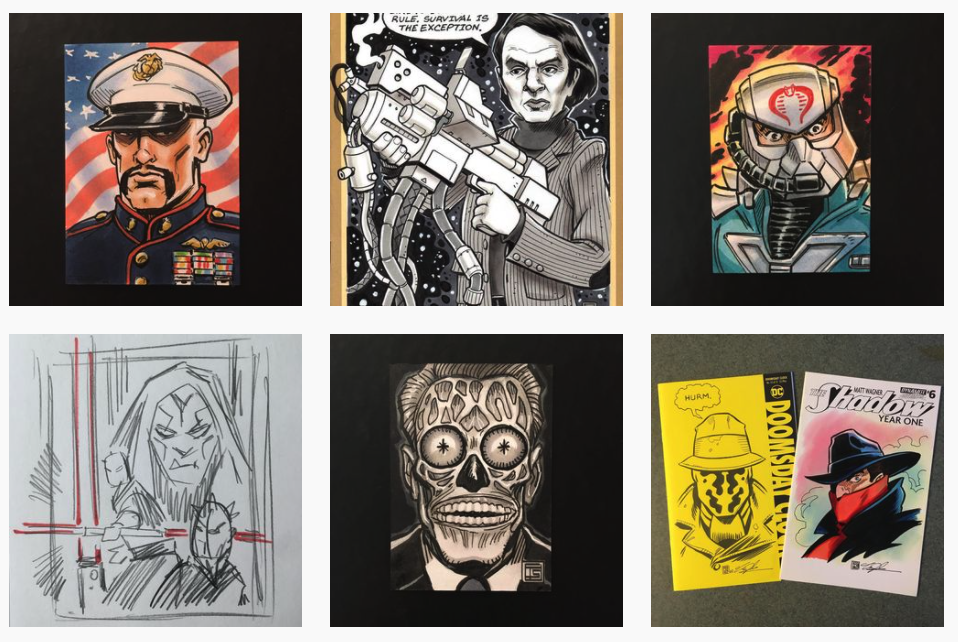 Tim Shinn is a storyboard artist whose style mimics classic superhero comics that can be seen in his drawings, whether superheroes, original characters, or other pop culture icons. His are detailed drawings and sketches, many of which are hand-drawn on paper.
Cheyenne Curtis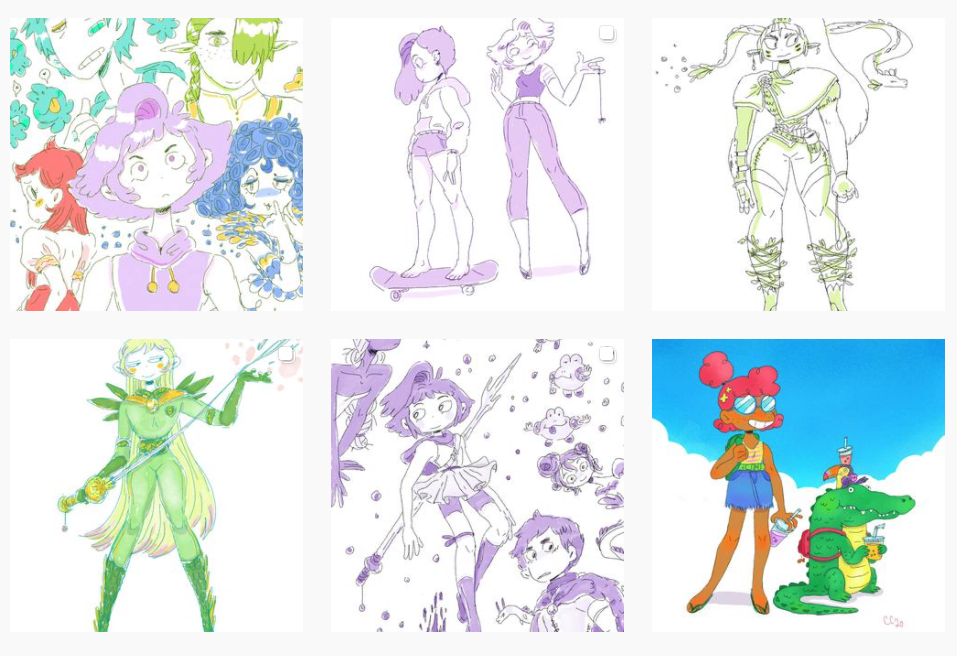 If you love animations with a quirky, cartoony style, you will love what Cheyenne Curtis does. He has hand-drawn sketches and digital characters in her Instagram account with some details borrowed from her life experiences. Her source of inspiration will be evident in her drawings that show her fun personality and whimsical charisma.
Beth Wollman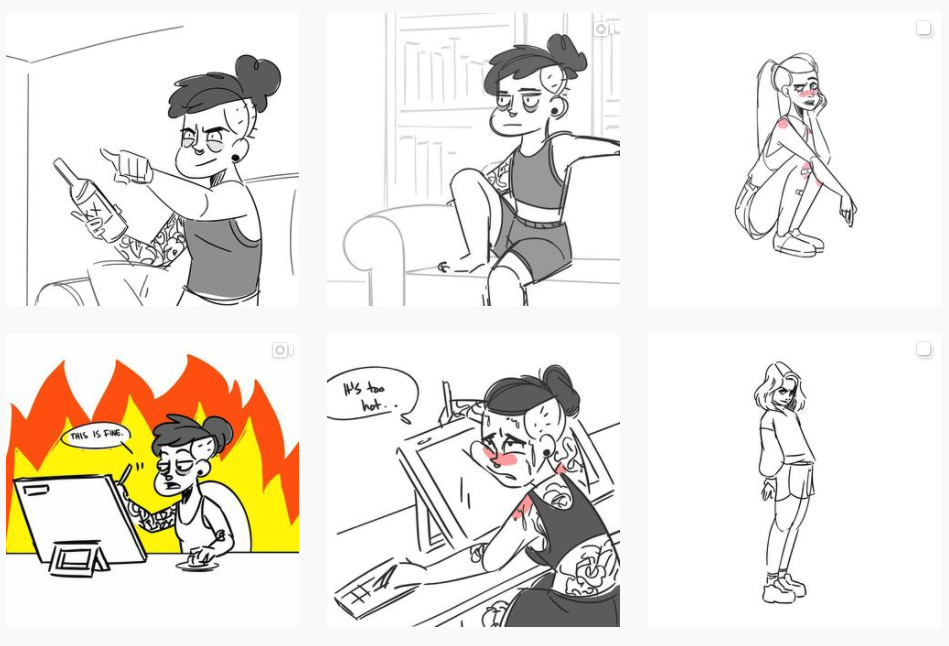 Storyboard artist, Beth Wollman, works at Bento Box. Her Instagram account has a plethora of figure drawings with clean linework. She also includes a style that borrows from her life experiences, as seen in her sketchbook line that showcases everyday objects. Beth's drawings and sketches have a rich personality, with characters that seem to come to life.
Bryan Turner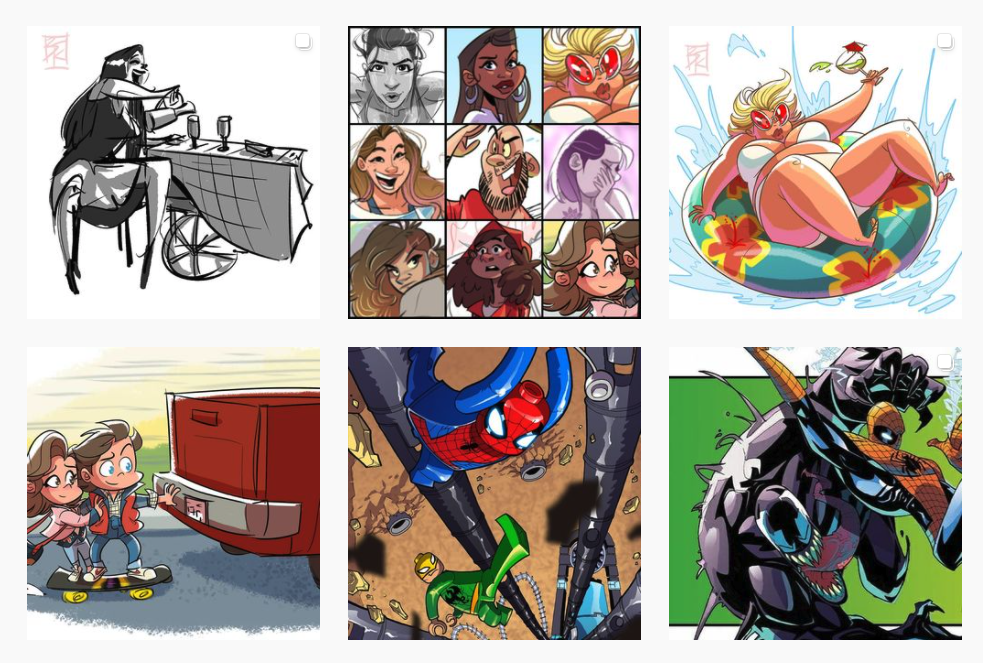 Bryan works for Warner Brothers. He is a fantastic story artist whose contributions can be seen in the Scooby-Doo cartoons. Bryan Turner's style varies, ranging from muscular superheroes to gritty warriors, and characters seem to have walked out of the Mystery Machine. Bryan Turner has an interesting take on some original pieces and the famous characters, both hand-drawn and digitally created. You will find masterfully done drawings and sketches done in full color as some in Black & White. Bryan is another stellar illustrator worth following if your interests are in modern animation and cartooning.
Stephen Anderson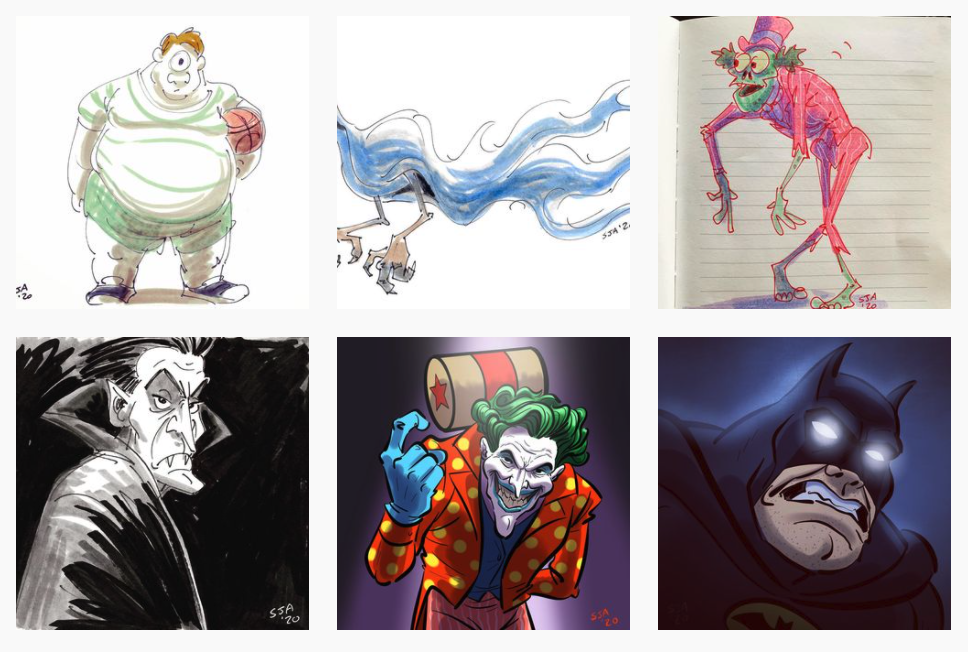 The different drawings and sketches on Stephen's Instagram show how he is talented. He works for Disney Animation Studio; thus, many of the characters you find in his account are familiar. You will discover superheroes, Christmas-themed sketches, pigs, and Inktober. You also will find storyboards from his projects for Disney and original illustrations that show everyday life experiences.
Ari Castleton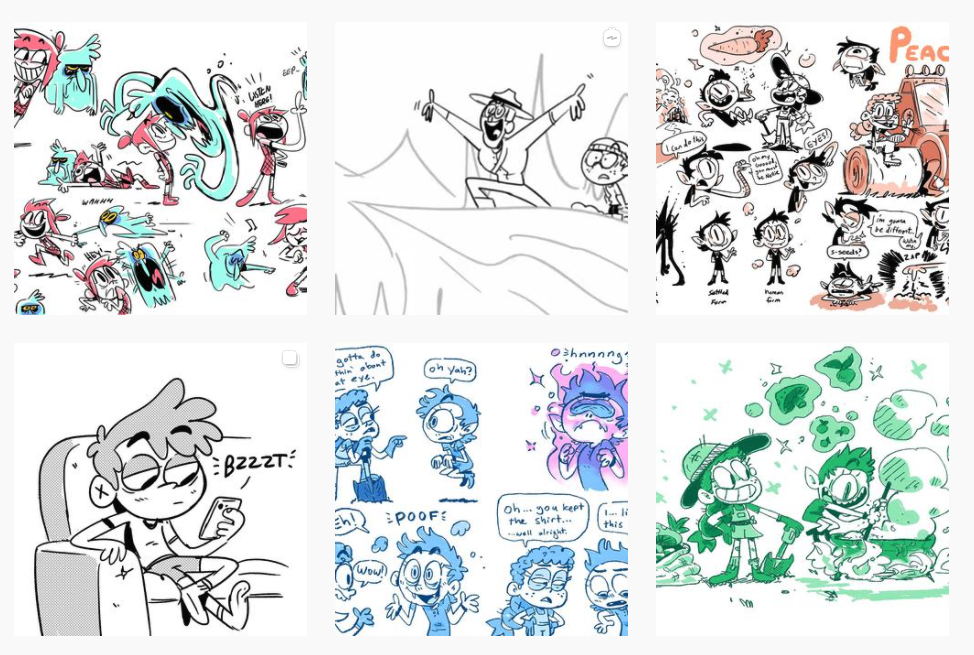 Storyboard artist with Nickelodeon, Ari Castleton, has character drawings and sketches that are worth checking out. They have an exciting style, especially his one-page panel-less comics. Going through his comics is a fun experience that can have you falling down a 'rabbit hole.' Ari's characters exude remarkable facial expressions, which is vital in using animated visuals to tell stories. The sketches and drawing ooze a rich personality and movement, artwork that any aspiring storyboard artist or illustrator can mimic.
Gina Gress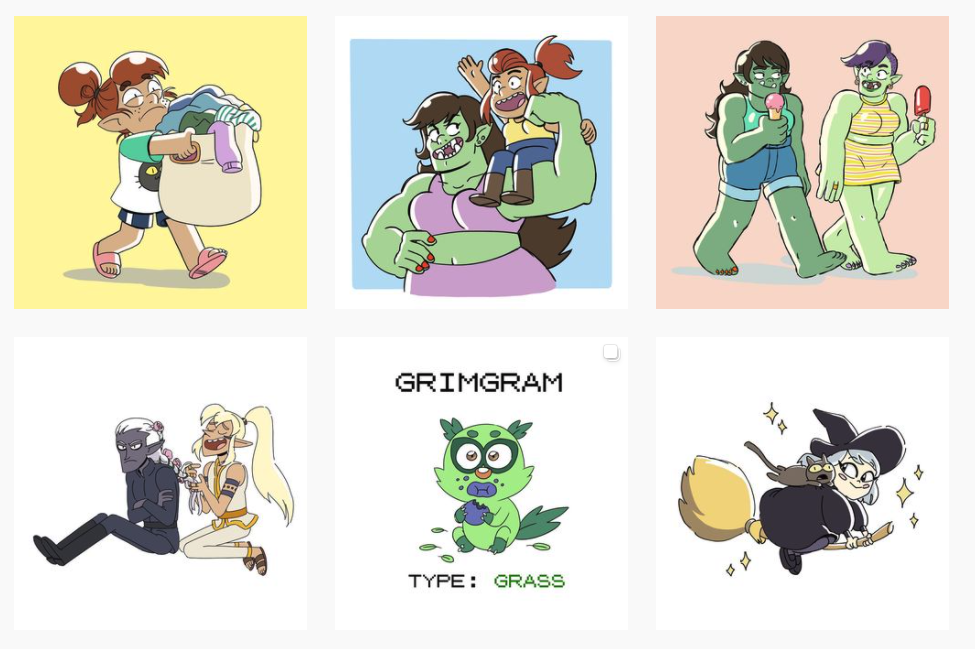 Gina Gress's style is expressive, having clean and refined detailing. She is a pro storyboard artist working for Netflix. Her creations are often quirky but relatable. Her account is a mix of stylized pop culture characters and some original ones, storyboards, comics, and practice doodles. Check out her Instagram to see some of the irreverent and fun cartoons that include a hilarious version of her herself. Her work showcases her skills and her ability to tell stories that bring out a humorous side through drawing.
Jake Hallander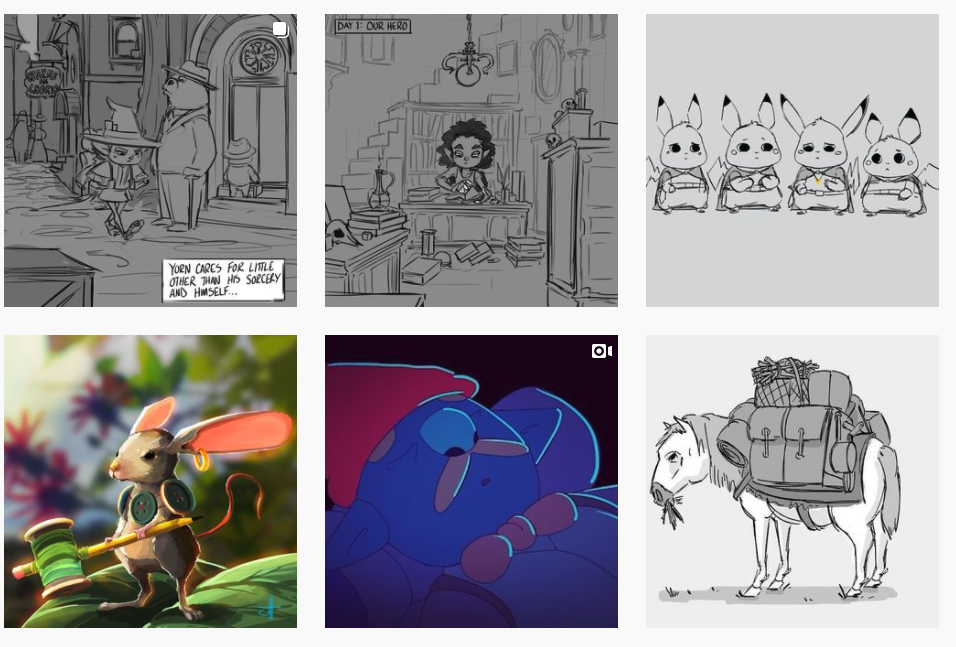 Storyboard artist Jake Hallander recently worked on Disenchantment. His work is featured in some of Nickelodeon's animations, which often have a subject matter and are mood setters. His stylized cartoons, creatures, and characters tend to have a true-to-life proportion. Jake is skilled with human expression and character form, with drawings ranging from realistic sketches to caricatures. The storyboards on Jake Hallander's Instagram can be an inspirational, fun study.
Tiffany Ford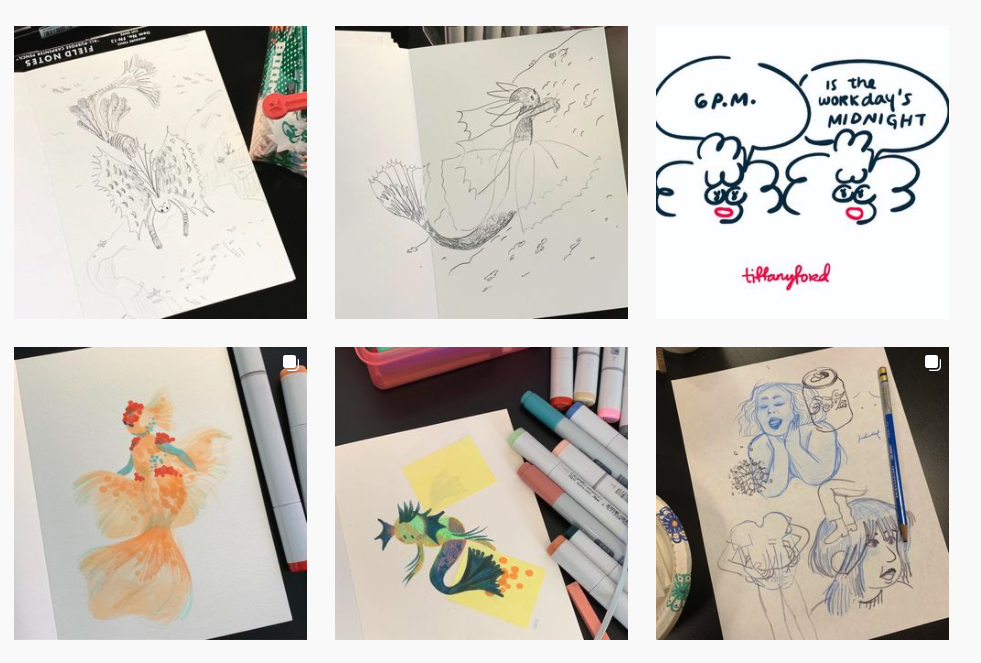 Having worked for Disney and Cartoon Network, Tiffany Ford is known for her unique style exemplified by her quick color-block drawings and art. Her characters blend her artistic range; they are basic but highly deliberate, and at times, almost abstract. Nevertheless, her creations are enjoyably fanciful.
Sarah Johnson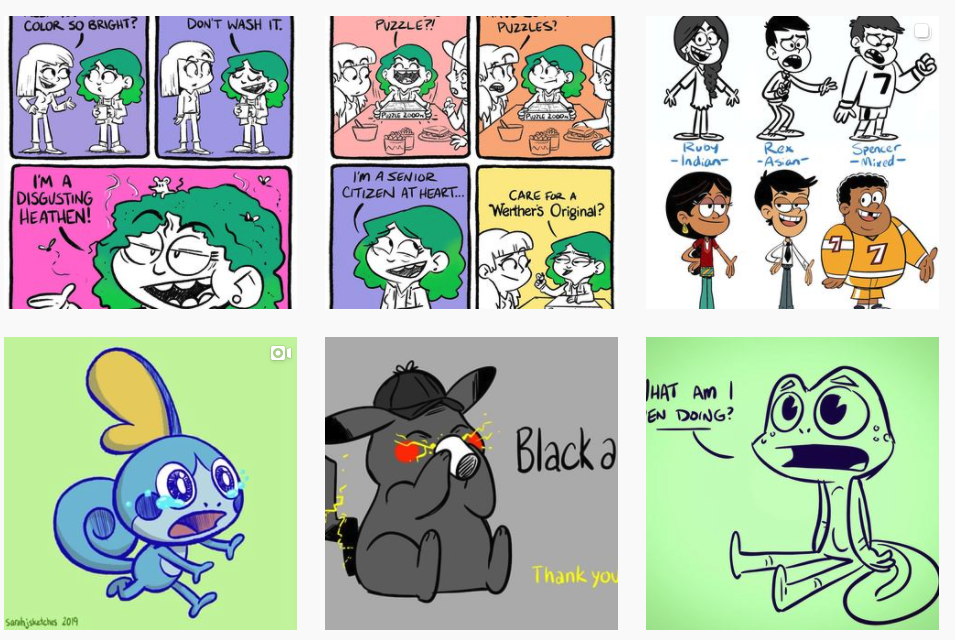 Sarah has an expressive style that entails the use of bright colors. She is a storyboard artist for Nickelodeon. Her styles will be noticeable and will remind you of some of your fav cartoons. As are masterful cartoonist, Sarah gives are drawing an energetic movement and eye-catching palette. If you see snapshots of her storyboards and quick hand-drawn sketches, you will note the richness of expressions seen in her Nickelodeon works. If you love classic cartoons, you should check out her stuff.
Tori Grant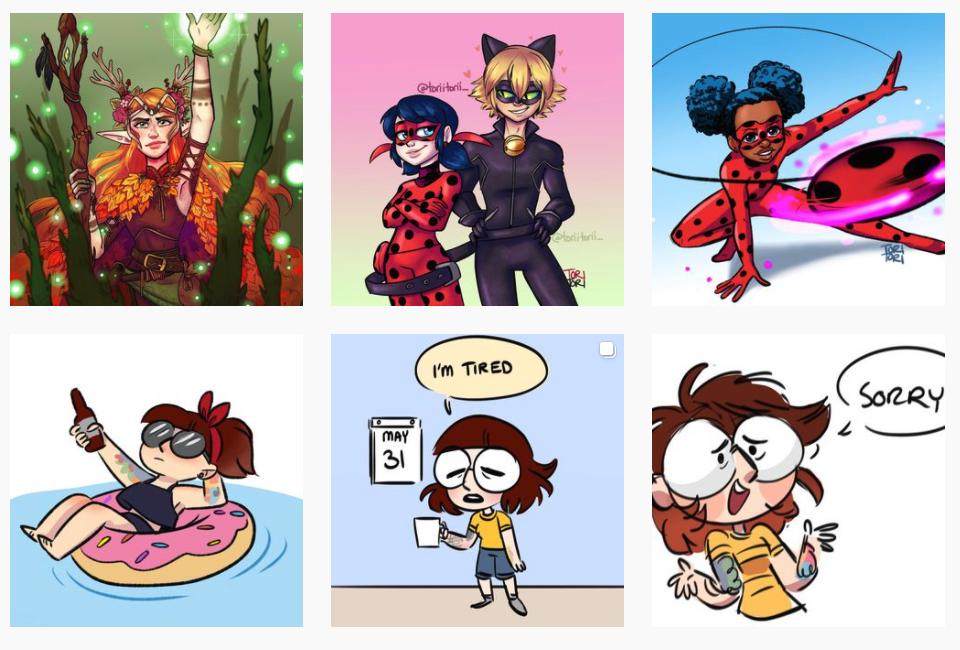 Tori is a highly skilled storyboard artist, a skilled denoted by her exaggerated cartoons, fantastical humanoids, anthropomorphic animals, and relatable human caricatures. Her Instagram is full of life-relatable photos, storyboards, and doodles. Some of her stylized characters, like her self-caricature, are fanciful, while others are realistic, having life-like proportions. From whichever angle you view her storyboards, her works are enjoyable content with a robust illustrative background.
Ariel VH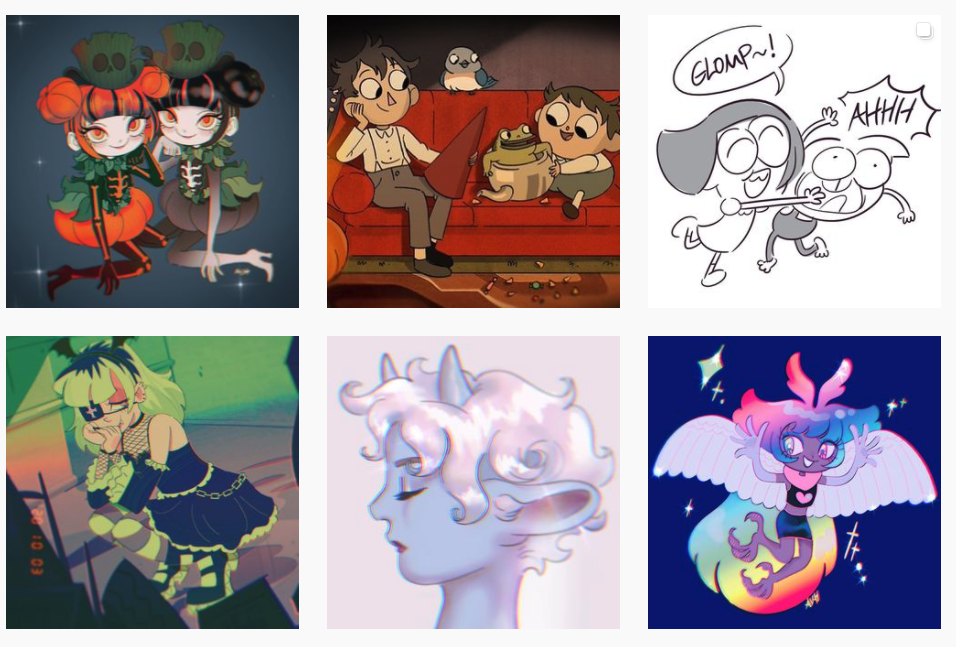 Storyboard artist, Ariel VH, works for Disney TV Animation. Her job seems an appropriate role because her name is one of the popular character names for Disney's animated princesses. Ariel prefers bright, colorful character sketches full of life and never short of that unmistakable Disney energy.
Many of Ariel's original characters are a product of a fun, creative process, a thing seen in her pictures, comics, and storyboards. She like traveling and taking photo or sketches of her escapades. Observing her work is a lot of fun and will have you amazed and wondering where she gets her inspiration. Ariel is one of the illustrators worth saving in your list if you are searching for storyboard artists that will help you hone your style.
Vince Aparo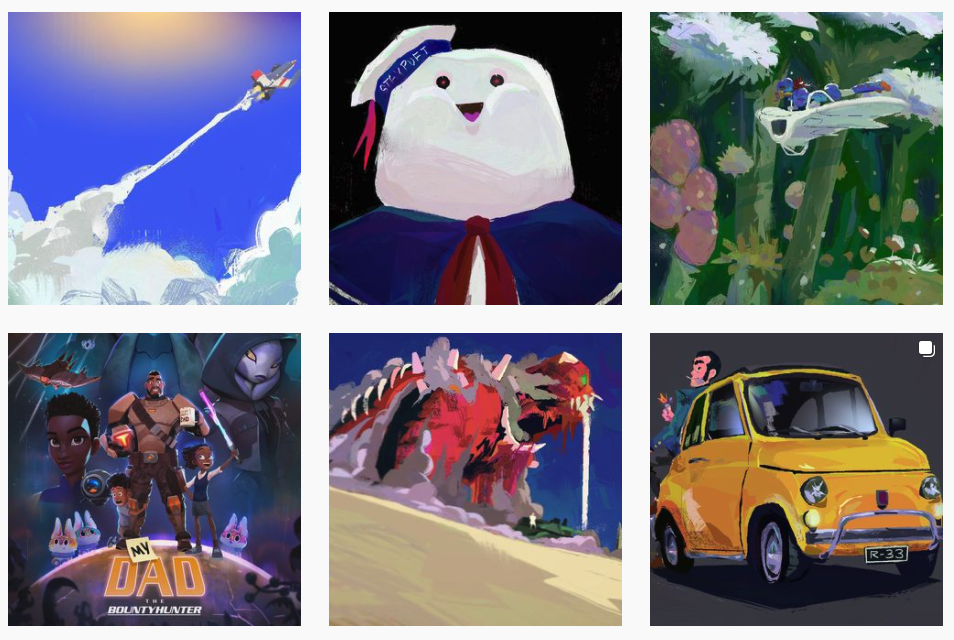 If you look at Vince Aparo's creations, you will find that his designs and styles can be defined as classic Disney but with a manga touch. He works for Disney Animation, and his Instagram account is a blend of digital practice drawings, quick hand-drawn sketches, and other pieces that have a consistent style. Vince has an exceptional knowledge of portraiture proportions and perspective in his highly stylized characters and human figure sketches.
Tom King Thomas Glenn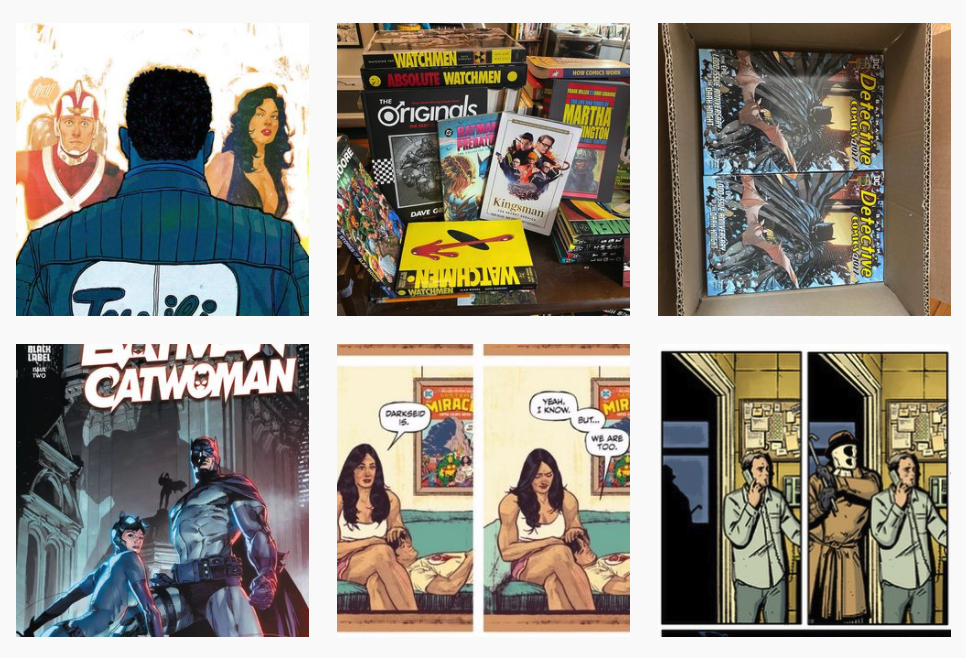 Tom was once a member of the SpongeBob SquarePants crew, having served from season 4 to season 6 as a storyboard director and writer. He was paired with Luke Brookshier from season 4 to mid-season 5 before Nate Cash step in as his replacement. Tom King was later recalled to work for the SpongeBob Movie: Sponge Out of Water as a storyboard artist. He also did audio commentary on the hit production Spy Buddies.
Lee Milby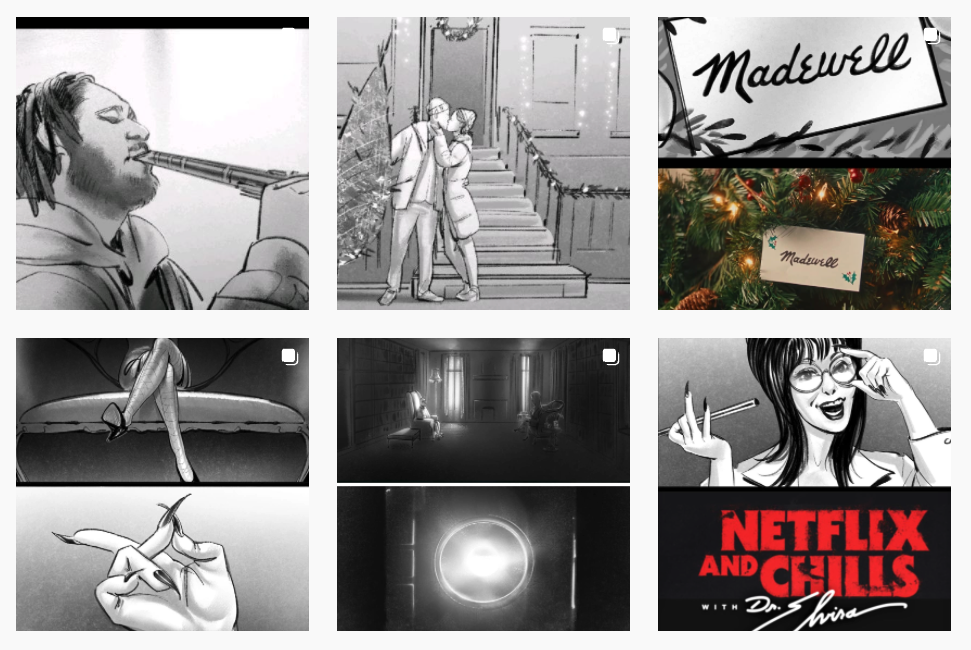 Lee Milby is a top storyboard artist and illustrator who posts regularly on Instagram. He has worked on various projects, including commercials, music videos, and short films. His work is characterized by its attention to detail and its use of color. In addition to his work as an artist, Lee is also a teacher, and he offers online courses on storyboarding and illustration. He's worked on major Hollywood films like "Jurassic World" and "Thor: Ragnarok" and his illustrations are truly next-level. So if you're into storyboards or want to see some fantastic art, give Lee a follow.
Tiffanie Young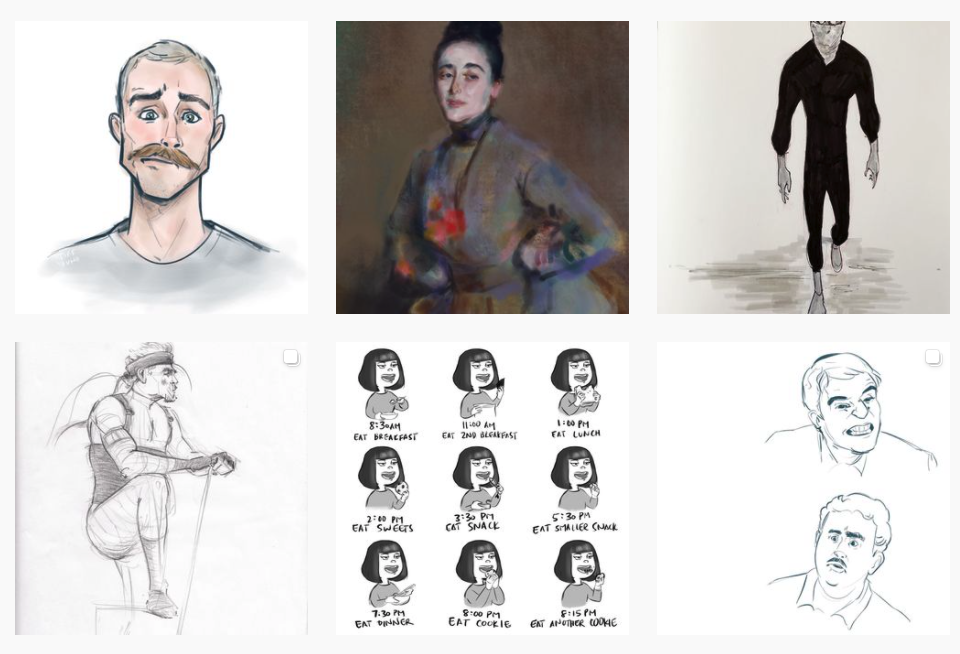 Tiffanie Young is an illustrator and storyboard artist specializing in creating shooting and treatment boards for commercials, short films, and digital advertising. She enjoys collaborating on telling numerous types of stories, which is a skill she learned in the past while working as a production coordinator. Whether she is creating a shooting plan, finding new ways to convey emotions, or helping a director's visions become a reality, she believes that less is more, meaning she prefers to use fewer words to say as much as possible.
In addition to the skills mentioned above, Tiffanie has created new design concepts and characters for live-action and animated productions. Urban apparel, magazine illustration, and portraits are ways she utilizes her comic and art talents.
Clients she has worked for in the past include the ACLU, Starbucks, Lexus, Dove, Samsung, and Blue Cross Blue Shield.
Micah Gunnell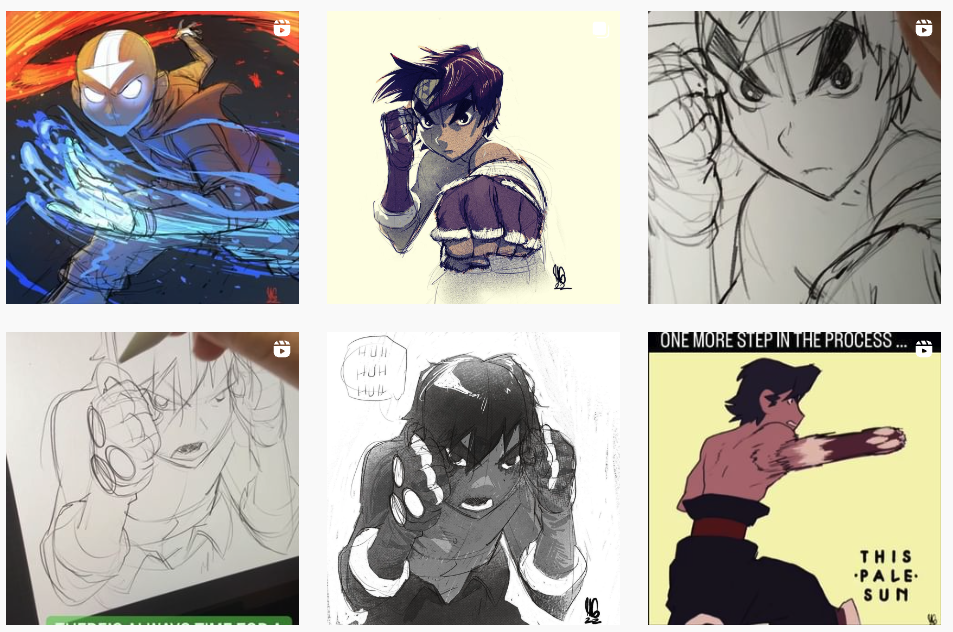 Micah Gunnell is a story artist who has worked on some of the most popular films and TV shows of the last decade. Micah's work is known for its highly detailed and realistic style, which has led to him being in high demand by Hollywood directors and producers.
Micah has worked on blockbusters such as 'Jurassic World' and 'The Avengers,' as well as hit TV shows like 'Breaking Bad' and 'Game of Thrones.' In addition to his film and TV work, Micah has a successful career as a commercial story artist, working with major brands such as Nike, Coca-Cola, and Samsung.
Micah's unique style and ability to bring stories to life have made him one of the most respected storyboard artists in the industry.
Liz Murphy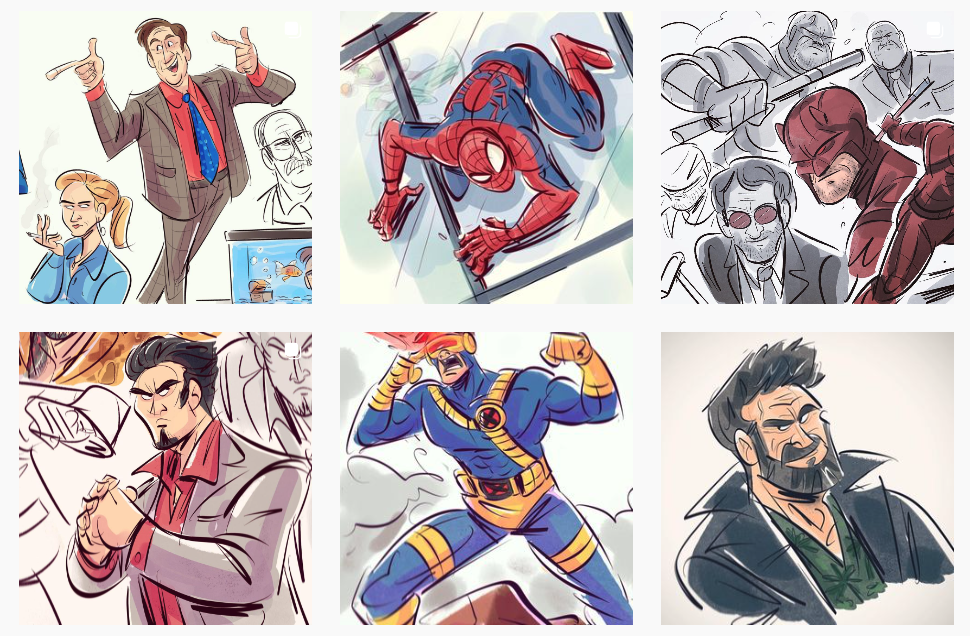 Liz Murphy is a storyboard artist who has worked on some of the most prominent animated films in recent years. Liz got her start in the industry as an intern at Pixar, and she quickly rose through the ranks to become one of the studio's most respected artists. Liz has worked on various projects, including Disney's "Frozen" and "Zootopia." In addition to her work in animation, Liz has also served as a Supervising Director on Nickelodeon's "The Legend of Korra." Liz is considered one of the best storyboard artists in the business, and her work has helped shape some of the most memorable films of the past decade.